| | |
| --- | --- |
| Start point: | Speak to the Cook in the kitchen of Lumbridge Castle. |
| Members only: | No |
| Difficulty: | |
| Description: | The Duke of Lumbridge is having a birthday, but the cook forgot to purchase the ingredients for the cake. The Lumbridge castle cook is in a mess; he needs a lot of ingredients and does not have much time. |
| Length: | Short |
| Requirements: | None |
| Items required: | |
| Enemies to defeat: | None |
Starting the Quest

Edit
Speak to the Cook in Lumbridge Castle to start the quest.  The Cook will explain to you that he needs to prepare a cake for the Duke's birthday and needs help gathering the ingredients.
Obtaining the Items

Edit
After agreeing to help the cook you'll need to gather an egg,a bucket of milk, and a pot of flour.  These items can be gathered around the Lumbridge area, found in the diagram below.
Completing the Quest
Edit
After you have collected all the items, return back to the Cook and give him the items to complete the quest.
Congratulations, quest complete!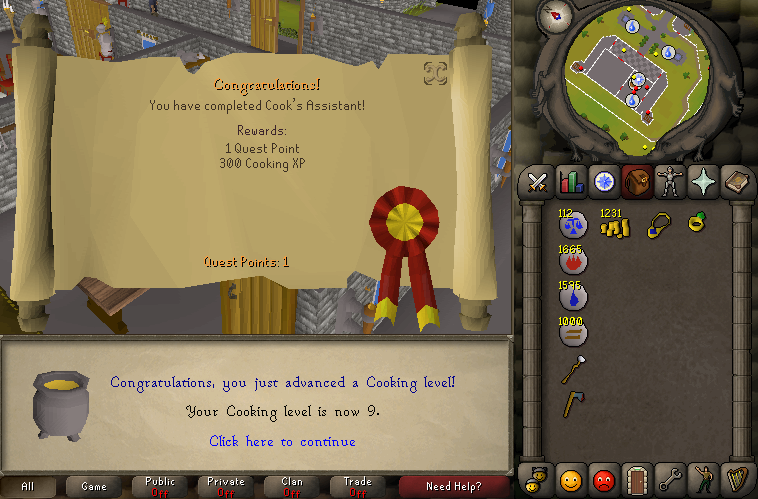 Ad blocker interference detected!
Wikia is a free-to-use site that makes money from advertising. We have a modified experience for viewers using ad blockers

Wikia is not accessible if you've made further modifications. Remove the custom ad blocker rule(s) and the page will load as expected.